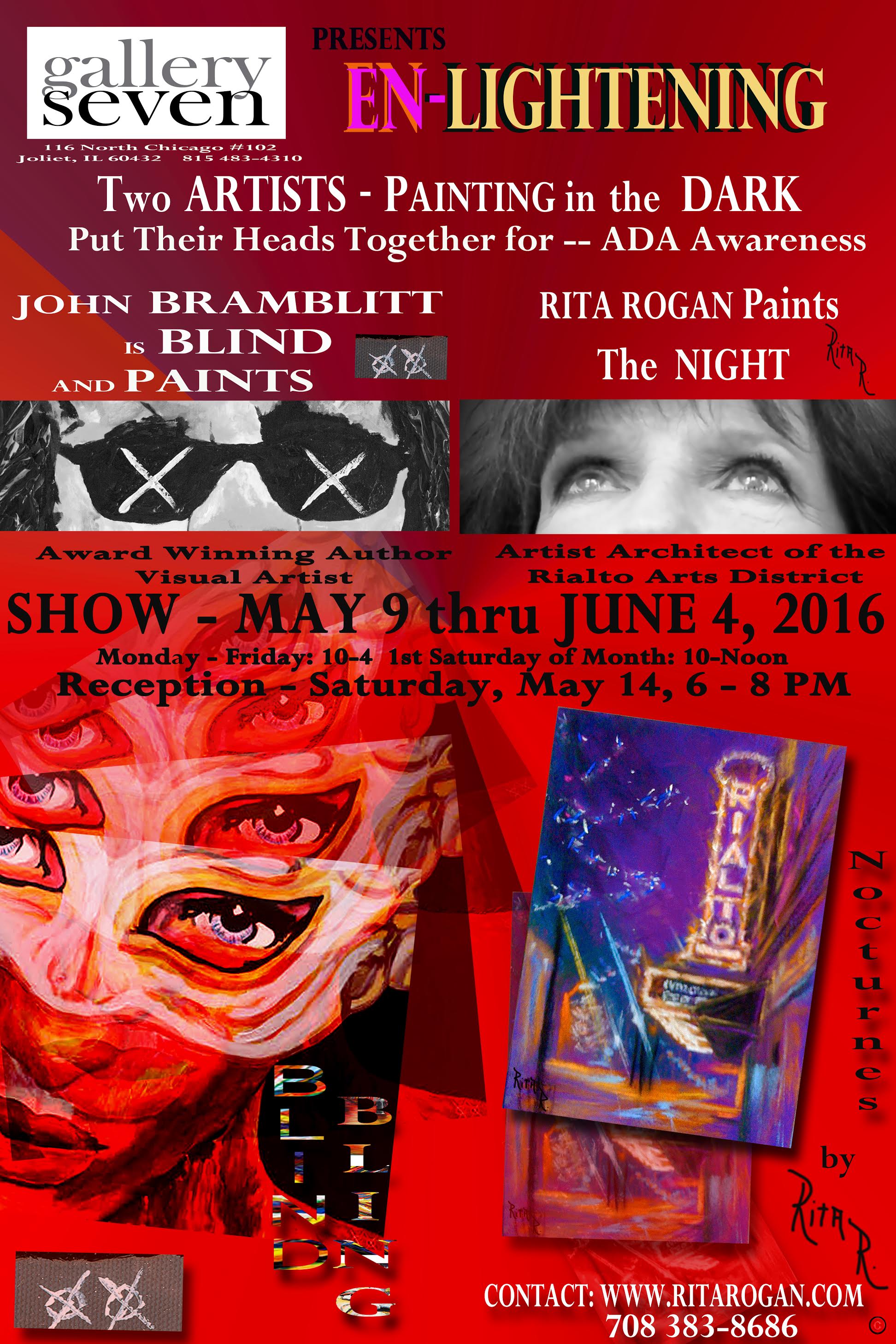 "En-Lightening" Art Exhibit
May 9—June 4, 2016
Who Rita Rogan, PhD, award-winning author, artist and psychologist
John Bramblitt, Blind Texas Artist and award-winning
What "En-Lightening: A Show of Color in the Dark"
A show that En-Ables all to see Ability not Dis-Ability
This unique collection will feature both Rogan's Nocturnes and Bramblitt's paintings: one paints in the dark of night; the other in the dark of his blindness. Vivid color is the result of both.
"Blind or not, his paintings are vibrant with color."
–

According to one of Rogan's collectors
When Exhibit runs: May 9-June 4, 2016
Gallery Hours: M-F 10 a.m. – 4 p.m., first Saturdays 10 a.m. – noon
Reception: May 14, 2016, 6-8 p.m.
Meet & Greet Artists: June 4, 2016 10- noon, 2-4 p.m.
Painting demonstration & jazz concert: June 4, 2016, 6-8 p.m.
Where Gallery Seven, Rialto Arts District, 116 N. Chicago St., Suite 102, Joliet, Illinois
Why 1) To enjoy two new and unique perspectives
2)
To see the proof of one blind man's ability to break through his own limits, as well as our expectations
Donations at the door of the June 4 concert and demonstration will benefit Will Grundy Center for Independent Living.
Contact: Rita Rogan, 708/383-8686 http://www.ritarogan.com/
Gallery Seven, 815/483-4310 http://www.galleryseven.net/#/page/home/